She Won a Land Worth Over

₦

3.5

M ($8k)
This is realer than real!
WON ₦50,000
"After seeing all it entails on Nkechie's status, I decided to join the book club because for some great reasons I have not been able to really sit down to read and when I saw the opportunity of reviewing books with like minds, I decided to join.
​
When I paid to join the book club and the draw, I was glad deep down knowing I will get good value for my money. I was really not expecting to WIN, but it came at a point when it is much needed.
​
What will I do with the 50K? I love good investments... so surely this will go in that direction.
​
My advice to those standing on the edge and who are waiting, please do not waste time Joining in because this is realer than real. For me, it is also a fantastic way to end the year and to start another."
WON ₦50,000
"Firstly, I believe this is God orchestrated; because the usual me will not just join any group online because there are lots of groups out there that don't add value to one, rather they pollute morals.
Secondly, my sister Beulah O. is a member of the book club and I know if she belongs to a group or club, it must be one that will add value to her. So I thought I would be impacted as well if I can be a part of the book club. I also love to acquire more knowledge and I know joining a book club like PRW will make it achievable.
I had a positive feeling because my spiritual father pastor Femi Lazarus says "you will value and pay attention to whatever you pay for". And I have not been disappointed ever since I joined.
It was surprising to me when I got the message that I won this week's cash draw because I wasn't the only one in the group. But thank God grace found me! There's a particular need I've been asking God for and now that grace has found me and I won the cash draw, I will add the money to the one I have on ground. But of course I will pay my tithe first.
I honestly will advise females that are still standing on the edge to join the group not just for the cash price but most importantly the knowledge that would be acquired. Knowledge they say is power.
Sisters, there's no time to check time ooo!!!
"
WON ₦50,000
"I was attracted to the book club when I heard about it and I decided to join because I get the opportunity to read more while qualifying to win awesome cash prizes. It is a win-win. I was happy because I felt I was doing something with the money.
In fact, I was too shocked to find out I won because I just joined this week. For now, I will save the money!
​
I advise people who haven't joined to have an open mind and trust God to not only win but gain insights from reading with the book club."
WON ₦50,000
"My first attraction to the PRW Book Club was through following Dr. Stephen Akintayo's motivation and teaching on Facebook; I saw the Book Club advertised alongside winning a plot of land in Lagos and trusting the fidelity of Mr. Akintayo's Facebook page I decided to join.
At the time, I didn't really know about this weekly 50K Naira draw, but I was really looking forward to the books.

I am going to use part of this 50K to pay for more books.

And I'll encourage everyone who has not made up their mind to do so and join the Book Club and Draw."
Here's How To Enter The Draw For Any of These Prizes
Click on the 'Enter Now' button
Pay once for your entry and you'll have access till January 30, 2022: this qualifies you for the draw to win any of the prizes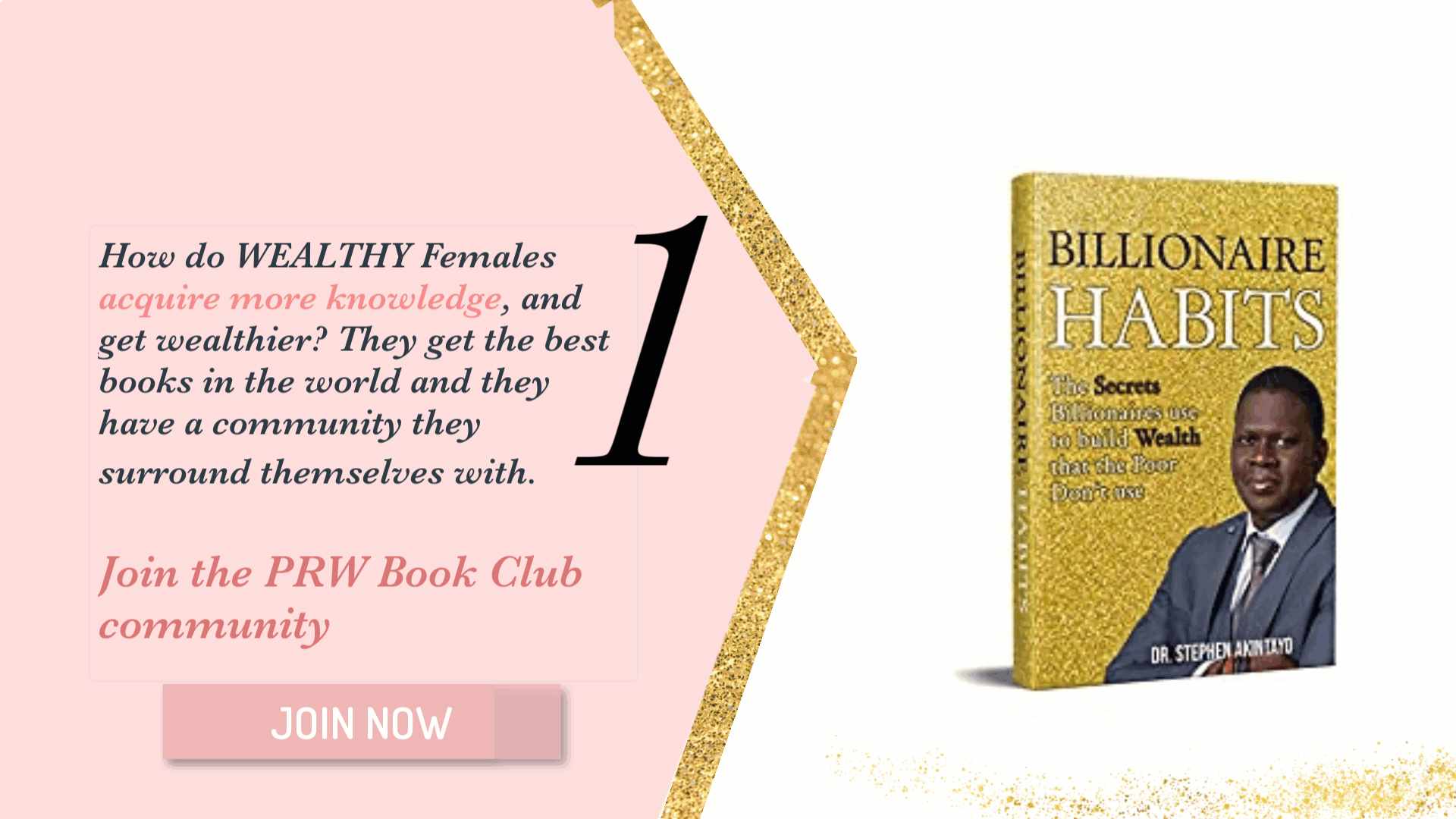 Take note of your Transaction Number: you'll be automatically added to the draw once your entry is confirmed
Relax, check your email, and WhatsApp messages for the announcements on winners and more...
Perfectly Ready & Worthy Females' is a 'Personal Development' brand that inspires and helps females build the life of impact, legacy, and fulfillment that awakens and propels the giant in us. By doing this, we collectively birth generations that make the world better and brighter.
Please note that the PRW Book Club Draws are not a charity/not-for-profit raffle, property raffle, or property lottery but a prize draw. Our online contest to win land and/or other items give you the opportunity to Join our female-centered Book. Club community. All current PRW Book Club monthly/yearly members will also be entered into these prize draws. Sign-up to the Book Club is necessary to enter the draw, and the intention of our draws is that people enter to win an investment or more, whilst also building a reading culture and in some cases, with the intention to support a worthy charitable initiative. Only Book Club members are eligible for the draw.
© 2021. Perfectly Ready and Worthy. All rights reserved.