Here are the Rules of this Draw
PLEASE READ THESE OFFICIAL RULES CAREFULLY AND CHECK THEM REGULARLY. THIS IS A BINDING CONTRACT BETWEEN YOU AND THE PROMOTER. THESE OFFICIAL RULES MAY CHANGE FROM TIME TO TIME.
Joining the Perfectly Ready and Worthy Book Club till January 30, 2022 is necessary to enter or win. All entries into a Prize Draw have an equal chance of winning. These rules govern the Christmas and New Year promo draws and will be followed to the letter to keep your eligibility for the draw eligible and true.
NOTICE REGARDING ANY DISPUTE RESOLUTION: These Official Rules contain a binding arbitration provision and class action waiver (see Section 19) that govern how claims will be resolved between you and Eeplace Place Integrated Company, the business name for which the Perfectly Ready and Worthy brand trades with. You agree that disputes between you and the Eeplace Integrated Company brands will be resolved through binding, individual arbitration (instead of going to court before a judge and jury) and you hereby waive your right to participate in a class-action lawsuit or class-wide arbitration. If you disagree with this, do not enter the draw.
​
​
Winner Disqualification: A Participant, Potential Winner and/or Winner may be ineligible to receive the Prize(s) and/or disqualified for the following reasons:
(a) failure to meet all of the eligibility requirements stated in the Official Rules
(b) failure to abide by these Official Rules, the Privacy Notice, Terms of Use
(c) failure to provide a valid email address at the time of entry
(d) failure to timely respond to the Potential Winner notification (within 24 hours)
(e) PRW, having made all reasonable attempts to do so, is unable to contact the Potential Winner within 48 hours (2 days) of the relevant drawing of the Potential Winner for the Prize Draw
(f) PRW is unable to verify the identity and verification of the Potential Winner to its reasonable satisfaction within 2 days of the relevant drawing of the Potential Winner for the Prize Draw
(g) failure to timely complete Winner Documentation and/or background and/or identity check documents
(h) failure to pass the background or identity and/or security check to Promoter's full satisfaction
(i) the provision of false, incomplete, and/or misleading information to Promoter or any of the other Prize Draw Partners
(j) the commission of any fraud or deception in connection with any Prize Draws, use of the Website, and/or relationship with Promoter
(k) acting in a threatening, abusive, or harassing manner, at any time before or during the awarding of the Prize(s), to the Promoter and/or any of its staff/employees/people or representative
(l) inability to timely accept the Prize(s) for any reason, including, but not limited to, inability to travel to the location where the Prize(s) is being fulfilled and/or delivered, and/or injury or death, and
(m) the inability of Promoter to timely award or otherwise fulfill the Prize(s) due to circumstances beyond Promoter's reasonable control, including, but not limited to, legal restrictions, acts of God, natural disasters, pandemics/epidemics, terrorism, and/or weather
​
If a Potential Winner is determined to be ineligible and/or disqualified for any reason, an alternate Potential Winner will be selected using a verifiably random process from among all remaining eligible entries. This process will be repeated until the Prize(s) is awarded. Any alternate Potential Winner will be notified as per the procedures outlined in these Rules. The Promoter reserves the right to modify the Potential Winner notification and/or confirmation and verification procedures connected with the drawing of an alternative Potential Winner if any.
​
​
Our Age Restriction: Only females 18 and over years are eligible for this draw. If a Potential Winner is selected, and they are confirmed to be under 18 years, they will be disqualified.
​
Winners Responsibility: Unless expressly stated otherwise in the Rules, Winners are solely responsible for any and all applicable taxes, fees, and expenses related to acceptance, ownership, and use of a Prize. Perfectly Ready and Worthy (an Eeplace Integrated Company brand) will not replace any lost or stolen Prize(s) or components of a Prize. Prize(s) cannot be used in conjunction with any other Prize Draw or offer.
​
PUBLICITY: PRW reserves the right to publish or make available information that indicates that a valid award took place for each of the Prize Draws – for example, the surname and country, state, or province of residence of the Winner.
PRW will also require that winners participate in any reasonable publicity required by PRW (Perfectly Ready and Worthy: an Eeplace Integrated Company brand).
​
REFUNDS, RETURNS, AND EXCHANGES: We do not provide refunds for your draw eligibility through Entries and/or entrance to be a Book Club Member. This draw is connected to our Book Club Services and as such value is given as trade by batter. Draw entries and eligibility cannot be exchanged for any other service or product.
​
​
Perfectly Ready and Worthy is the promoter of all Prize Draws. All questions and concerns regarding these Rules should be directed to prwfemales@gmail.com.
​
Updated 07/12/2021
Copyright ©2021 Perfectly Ready and Worthy. All third-party names and trademarks are the property of their respective owners.
Here's How To Enter The Draw For Any of These Prizes
Click on the 'Enter Now' button
Pay once for your entry and you'll have access till January 30, 2022: this qualifies you for the draw to win any of the prizes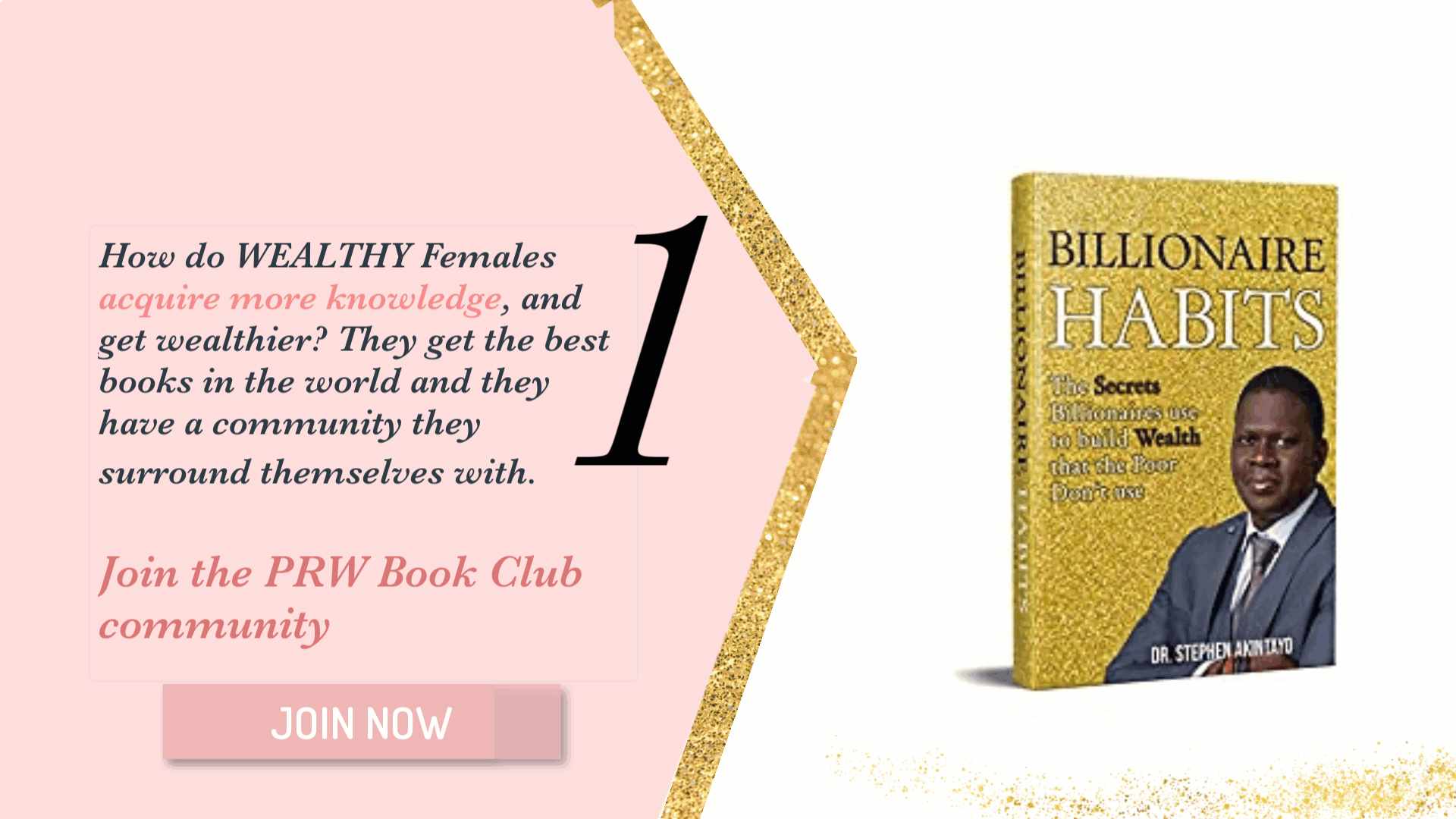 Take note of your Transaction Number: you'll be automatically added to the draw once your entry is confirmed
Relax, check your email, and WhatsApp messages for the announcements on winners and more...
Perfectly Ready & Worthy Females' is a 'Personal Development' brand that inspires and helps females build the life of impact, legacy, and fulfillment that awakens and propels the giant in us. By doing this, we collectively birth generations that make the world better and brighter.
Please note that the PRW Book Club Draws are not a charity/not-for-profit raffle, property raffle, or property lottery but a prize draw. Our online contest to win land and/or other items give you the opportunity to Join our female-centered Book. Club community. All current PRW Book Club monthly/yearly members will also be entered into these prize draws. Sign-up to the Book Club is necessary to enter the draw, and the intention of our draws is that people enter to win an investment or more, whilst also building a reading culture and in some cases, with the intention to support a worthy charitable initiative. Only Book Club members are eligible for the draw.
© 2021. Perfectly Ready and Worthy. All rights reserved.