Africa's No. 1 Personal Development Community
The Full Proof Community for Intentional Females
Africa's No. 1 Personal Development Community
What we are about & How we can help
We help females build the life of wealth and happiness they deeply desire through Personal Development and elevation. We can help you build your dream life in your relationships, business, and much more.
​
...The 4 ways we can help you ...
Join our growing community of purpose-driven females who are looking for a support network in their walk through business, career, finance, relationships, and more.
​
Plus you get to have access to all the training/masterclasses, challenges, workbooks, templates, and audio programs
The Coaching-Training Hub
Join our growing list of world-class and internationally accredited coaches, trainers, therapists, and counselors for the best experience of a lifetime.
​
Transformation and elevation are keywords for us in your personal development experience and journey, and we are here to serve you.
Someone once made the mistake of saying "The best way to hide something from Black people is to put it in a book." - in PRW, we refuse to move without the RGHT information from the people that truly matter. So we READ, review and recommend books from around the globe in the Book Club. We delve into diverse topics from key personalities, and diverse pieces of information that come together to make a whole. We leave no stone unturned.
Become a monthly or yearly Book Club subscriber and join the Live sessions, or watch the recorded videos.
* Available Globally
Want information, tips, and easy solutions on acquiring and obtaining tangible assets, knowledge, and rare opportunities? The PRW Marketplace is the place to bag these offers.
​
You can't say you weren't offered the opportunity...we absolutely make opportunities available in the Marketplace.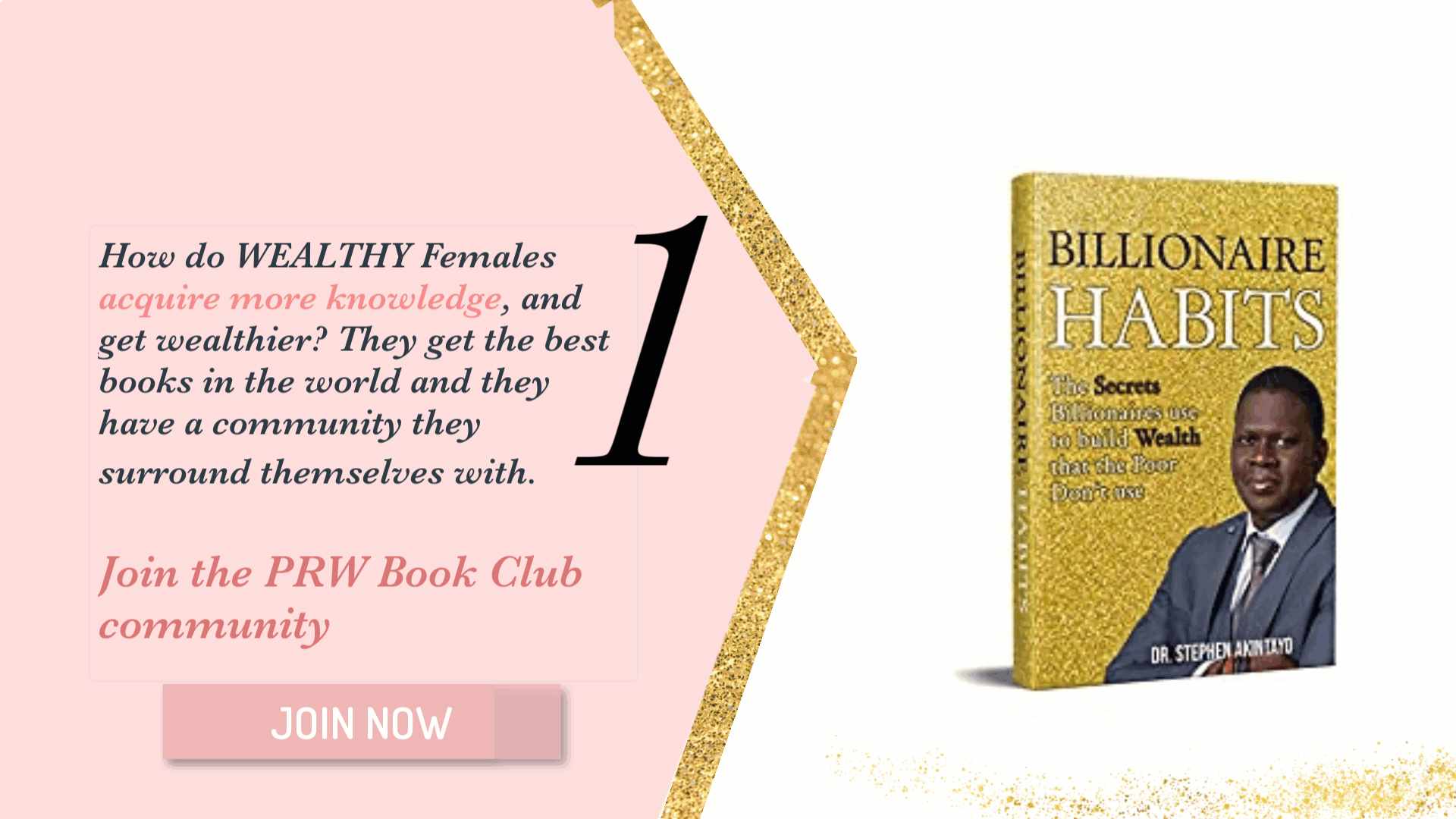 This was a game-changer for me in my career! I got a job within 3 weeks.
- Odun Okeme
Thank you Nkechie. You made me realize CHANGE is needed for growth to happen. This has stuck with me.
- Patience
I attended the Business Vision Board sessions, and it gave me clarity on my ballon business's vision and more.
- Chioma Enechionyia
I needed a plan on how to build my business alongside my 9-5 and I got a plan. Don't miss this.- Stella Marie Phillips
"If you want your life to be different,
you have to be

willing to do
something different first."
~

Hod Erod

~